posted on 4/5/22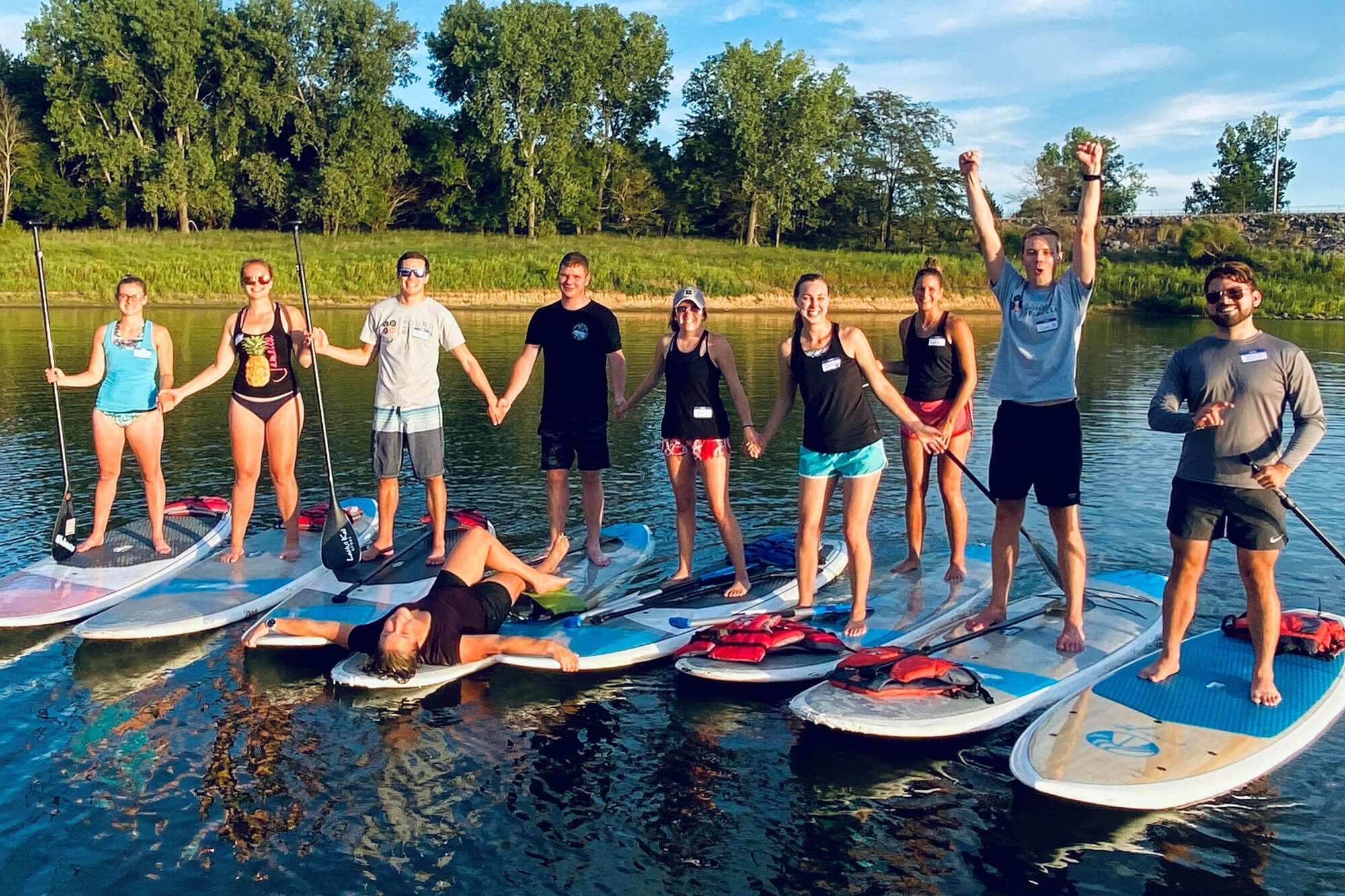 Outdoor Adventures
If you are ready to play, the Lake Red Rock area will provide you rejuvenating fresh-air outdoor adventures that will recharge your batteries. Check out some of the local favorites...
1. Paddlers
Just across the road from Lake Red Rock is Roberts Creek. The waters provide a nice gliding experience and the nature area doesn't disappoint. On Lake Red Rock, explore the water trail which takes you up close to cliffs and a "sea cave." SUP Red Rock provides paddleboard classes and rentals.
2. Hikers and Bikers
Check out the trails on page 12 for details on how to explore the area's trails. Hike into the Hickory Ridge area for a wilderness camping experience.
3. Bird Watchers
Lake Red Rock is a birding hot spot. During spring and fall migratory birds in a variety of species can be viewed. Visit the Chimney Swift Tower at Cora Shadle Park in Pleasantville to learn about Iowa's bird lady: Gladys Black. Travel over to Howell Station near the Red Rock Dam to view migratory birds from the Horn's Ferry Bridge. Bald eagles congregate there during winter months when waters are frozen in other locations.
4. Joy Riders
In the winter, sledders enjoy the hill next to the Red Rock Visitors Center and South Overlook. If you prefer joy riding in a car, make a loop around the area to visit the murals in Pleasantville, Knoxville, Melcher-Dallas, Bussey and Pella. If you want some faster action, check out the go-karts at Slideways just north of Knoxville.
5. Anglers
In our fishing areas, anglers will find crappie, largemouth bass, bluegill and channel catfish to test your skills.
6. Archers
Located on the southwest side of the lake off State Highway 14, the Red Rock Archery Range provides a practice area with permanent targets at distances of 10, 20, 30, 40 and 50 yards. The range is open to visitors March-November.
7. Sailors
When you have a vessel that needs it's space...come sail at Iowa's largest lake with over 15,000 acres of water to explore. Check out the Red Rock Marina for your supplies or book a slip for the season.
8. Sun Lovers
We understand the value of soaking up some rays. Pack your swimsuit and sunglasses. We invite you to chill-out in the afternoon at North Overlook Beach or Whitebreast Beach digging your toes into the sand. If a pool is more your thing, check out the Pella Aquatics Center with its lazy river and slides.
9. Swingers
Rolling hills and tree-lined fairways provid the backdrop for a fun weekend of golf. Swing your way through all 6 four golf courses within the Red Rock Area.
10. Climbers
We don't have mountains, but if you want a challenge, climb the steps of the Cordova Observation Tower.