posted on 5/3/22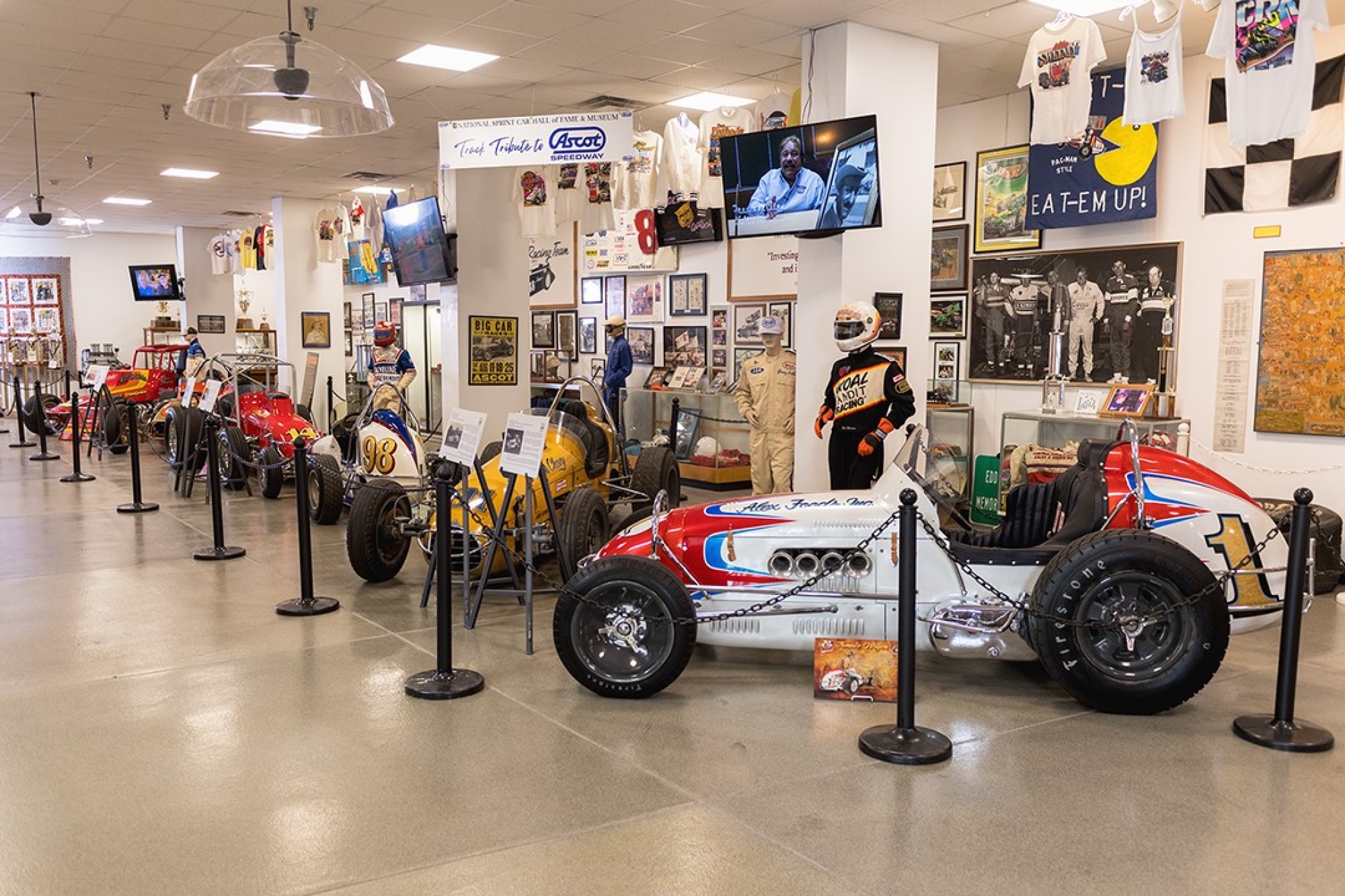 The National Sprint Car Hall of Fame & Museum hopes to see you this summer for our "Track Tribute to Ascot Park" exhibit! The exhibit, is currently on display through October 1, and features the cars, memorabilia, and much more from one of the most revered tracks in sprint car and motor racing history, Ascot Park in Gardena, California (1957-1990)!
Seven sprint cars, a midget, a quarter midget, a motorcycle, and several items of memorabilia are exhibited in honor of the famous southern California facility.
The cars on display this summer include the famous Alex Morales Tamale Wagon driven by Bob Hogle, Allen Heath and others, the Bromme "Andy Gump" sprinter campaigned by Paul Jones and others, Jimmy Oskie's Ol' Paint #91, Parnelli Jones famous #98 midget, the Elton Forsyth/Steve Kennick #7 entry that broke Ascot's track record twice, the late '50's roadster constructed by Indy fabricator Bill Finley, the 1973 Cowan & Riggs #14 piloted to the CRA championship by Don Hamilton and the last Bruce Bromme Sr. and Jr. built car campaigned by all-time CRA and Ascot victor Dean Thompson. In addition, a speedway bike like the ones campaigned at Ascot, and a quarter midget built by Bruce Bromme Sr. are also on hand.
"We feel this is a tremendous tribute to Ascot," says Museum Coordinator Bill Wright. "We've tried to take a good cross section of cars and memorabilia from the period 1957 to 1990. We'd be remiss if we didn't thank the Agajanian family, Dick Woodland from the Woodland Auto Display in Paso Robles, California, Bob Mays and the Smith Family at the Museum of American Speed in Lincoln, Nebraska, Jimmy Oskie, John Manard, Shawn Thomas and Mike Sweeney. California cars have always had a certain look to them, and we think our visitors will be awestruck at the way these cars have been preserved. We're really excited!"
Stay tuned as "Track Tribute to Ascot Park" t-shirts and posters will be available soon as well. You'll be able to purchase them at the museum, by visiting www.SprintCarStuff.com, or by calling 641 842-6176.
"Salute to Champions" had been an annual tradition at the National Sprint Car Hall of Fame & Museum since 2011. Drivers included Tony Stewart, Jeff Gordon, Mario Andretti, Steve Kinser, Doug Wolfgang, National Sprint Car Hall of Fame inductee Indy drivers, Sammy Swindell, Bryan Clauson, AJ Foyt, Jr. and Greg Hodnett. The museum will take a pause to make "Track Tributes" in the near future.
For more information on the National Sprint Car Hall of Fame & Museum and the special events happening here, visit www.SprintCarHoF.com and follow us on Facebook and Twitter!
(Dave Hill Photo)