posted on 5/2/23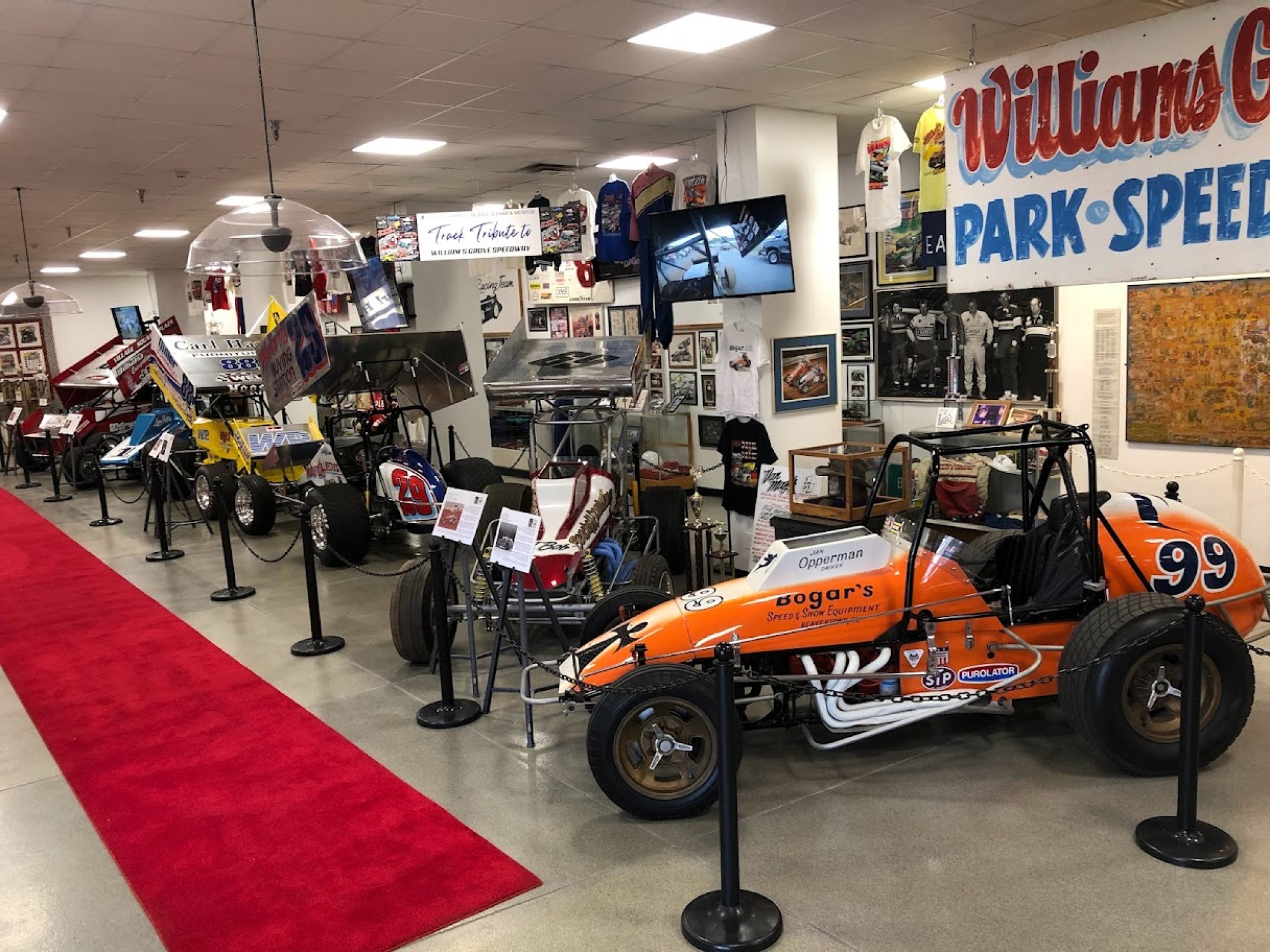 See the "Track Tribute to Williams Grove" in Your Next Visit to Knoxville!
The National Sprint Car Hall of Fame & Museum hopes to see you this summer for our "Track Tribute to Williams Grove" exhibit! The exhibit, is currently on display through October 1, and features the cars, memorabilia, and much more from one of the most revered tracks in sprint car and motor racing history, Williams Grove Speedway (1939-Present)!
Ten Big Cars/sprint cars and several items of memorabilia are exhibited in honor of the famous central Pennsylvania facility. In addition, videos showcasing the track, and an educational touchscreen are a part of the exhibit.
The cars on display this summer include the John Gerber #15 sister car to the #14 driven by Tommy Hinnershitz to the first feature win ever at Williams Grove in May of 1939, Ted Horn's "Baby" #1, the Miracle Power Special #2 driven by Hinnershitz, the Roy Morral #880 driven by Smokey Snellbaker, the Bogar #99 driven by Jan Opperman, the "1 of 1" #69 driven by Van May, the Boops Aluminum #1 driven by Lynn Paxton, the Weikert #29 driven by Doug Wolfgang, the Harz #88H driven by Fred Rahmer and the Beam #88 driven by Todd Shaffer.
"With over 80 years of tradition at Williams Grove Speedway, it's impossible to represent it all, but we feel we have a great cross-section of cars spanning the eight decades of Williams Grove, all the way from it's first event into the 2000's," says Museum Coordinator Bill Wright. "We'd be remiss if we didn't thank those who made it possible. Our ten cars on display have nine different owners, and two museums also worked closely with us. We'd like to thank the current management at Williams Grove as well for giving their o.k. on this project! Those we need to thank include Lynn and Brett Paxton, Mike Winslow from the Eastern Museum of Motor Racing (EMMR), Dick Woodland from the Woodland Auto Display in California, the Gerber family, Brian Coffee, Adail Gayhart, Van May, Barry Klinedinst, Jeff Durr, Bob Risser and Todd Shaffer. We feel the exhibit will be great for not only the fans of central Pennsylvania, but anyone wanting to learn more about Williams Grove Speedway!"
Stay tuned as "Track Tribute to Williams Grove" t-shirts and posters are now available as well. Purchase them at the museum, by visiting www.SprintCarStuff.com, or by calling 641 842-6176.
For more information on the National Sprint Car Hall of Fame & Museum and the special events happening here, visit www.SprintCarHoF.com and follow us on Facebook and Twitter!